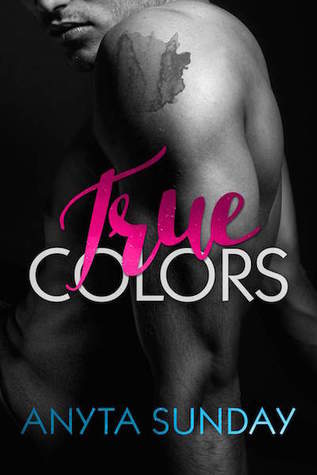 Book: True Colors
Author: Anyta Sunday
Series: True Love (#2)
Genre: Contemporary Romance; M/M; New Adult
Source: Netgalley
Pub date: 03/14/17
Oskar used to be Marco's best friend. His everything. His sunshine yellow.

But that was before. Before Marco stopped being a hot jock. Before he learned to live with scars and pain. And before Oskar tore their friendship apart.

Now the boy next door has returned home, determined to rekindle his friendship with Marco, and Marco's more afraid than ever. Afraid of getting hurt. Afraid of being humiliated.

Afraid of falling in love.

Can Oskar find a way through Marco's fear, back into his heart?
I really enjoyed this book.  It only took me two sittings to finish it and that was only because I needed to stop reading to get some sleep.  I will admit there was a point that I almost stopped reading it, though.  I have a hard time reading sad books.  I avoid them like the plague.  So when this one started off fairly sad and had even sadder flashbacks I considered stopping.  I'm so glad that I didn't!  These flashbacks were necessary to give background on the two main characters Marco and Oskar's past.
True Colors is written in first person.  Which I'm not a huge fan of but it was written well and I barely noticed after noting that this was the writing style.  Anyta Sunday did a wonderful job with the background of the characters and it didn't take long at all to understand who was who and how they related to each other.  It can be read as a stand alone book.  I didn't even realize it was part of a series until I went on Goodreads to get information for this review!
Marco is the main character.  He has a habit of assigning people around him colors.  The first is Oskar's color: "It started with sunglow yellow and him."  I found this book and Marco's color references to be quite poetic.  He is mature in that respect but immature in many others.  I'm not a huge fan of new adult books and if I'd realized this was one I may not have read it.  I find angst tiring.  Luckily, Anyta Sunday didn't include a ton of youth into it despite Marco and Oskar being college students.
This is a m/m aka gay romance which is quickly becoming one of my favorite book genres.  One of the characters is openly out while the other is not.  There are not a lot of love scenes.  If you enjoy a struggle and rocky past you will enjoy this book.  Like I said, I had a hard time stopping reading.  The by-play between Marco and Oskar is great.  I also really liked Oskar's little sister Zoe.  There's a lot of history between the two families and a lot of hurt.  At times, each of the men come off as jerks but knowing the underlying cause of their reactions are based in hurt makes it forgivable as a reader.
My favorite part of this book were the text messages between Marco and Oskar.  I can totally relate to how much easier it is to communicate through the phone or computer.  I also really enjoyed the play rehearsals.  I really thought that the whole play thing was kind of corny at first but I warmed up to it and it was pretty neat in the end.  I would highly recommend this book  even if you're new to gay romance since the few sex scenes aren't graphic or detailed.
Summary: Best friends and neighbors spent almost every moment together in their youth until they were torn apart by one wrong decision.  Little did they know that each was in love with the other.  They were brought closer as children by a terrible tragedy but it is also the results of this tragedy that causes them to lose their friendship.  Four years go by before they finally try to patch things up.  But can Marco get his confidence back in order to forgive Oskar?  Or will he continue being the color salmon and thinking of Oskar as the color rust?